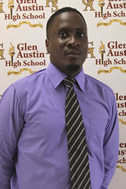 Mr Satuku
HOD COMMERCE
ACCOUNTING GRADES 9,10,11, & 12

QUALIFICATIONS
BCOMM ACCOUNTING WITH EDUCATION HONOURS DEGREE
CERTIFICATE IN PASTEL ACCOUNTING
CERTIFICATE IN PROJECT MANAGEMENT
ACHIEVEMENTS
1. MAINTAINING HIGH MATRIC, O LEVEL AND A LEVEL ACADEMIC GRADES WITH LEARNERS FROM A WIDE BACKGROUND SPECTRUM, INCLUDING INDEPENDENT, PUBLIC, TOWNSHIP AND SPECIAL SCHOOLS.
2. COACHING AND COORDINATING SPORTS UP TO GAUTENG PROVINCIAL LEVEL.
EDUCATOR PHILOSOPHY
MY EDUCATIONAL PHILOSOPHY IS TO EQUIP EVERY LEARNER THAT I HAVE THE PRIVILEDGE TO TEACH WITH EVERY POSSIBLE INTELLECTUAL AND LIFE SKILL TO ENABLE THEM TO BE EXCEPTIONAL CITIZENS OF THE WORLD.